By Mary Tuomanen
My candle burns at both ends;
   It will not last the night;
But ah, my foes, and oh, my friends—
   It gives a lovely light!
–Edna St. Vincent Millay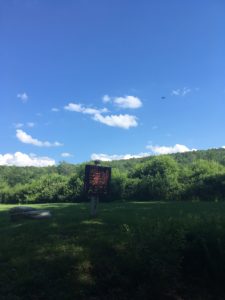 This summer, Applied Mechanics received the honor of a residency at the prestigious Millay Colony, an artist's retreat in the Berkshire Mountains on the former estate of poet Edna St. Vincent Millay. The place is singularly wild, gorgeous, overrun with flowers. The artists' colony is carefully laid out with secluded studios that are perfectly designed for focused writing, composing and painting, with names of alumni lovingly carved in the door frames (Leonard Cohen was hard to miss). "Watch out for the bears," warned our hosts. "You might hear coyotes." We felt — correctly — that we were extremely lucky to be there.
We knew that Millay herself (1892 – 1950) lived a terrific bohemian life out there in the mountains. She embodied the sort of avant-garde you might expect from a woman who went by the name Vincent: public skinny dipping before that was a thing, being polyamorous before that was a thing, throwing parties, indulging in substances, burning the candle at both ends and generally being a genius of her time.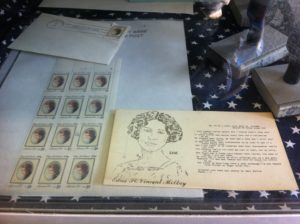 We were warned by our hosts, when we requested a tour of Millay's household, that the tour for the general public tended to skirt certain aspects of Millay's life (bisexuality, addiction, etc). Unfortunately, our schedule did not permit the Special Tour for Colonists. We decided to make do with the heavily-edited version.  This experience ended up being very useful for us, since we had come to the colony to begin development on our new show — an examination of documentation and cultural narrative, set to premiere Spring 2018. Our research into the Stories That Get Told are constantly revealing to us Stories That Are Not Told — the pieces of information that are edited out and accumulate to make their own Shadow Books behind the stories we know.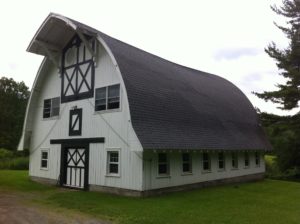 Millay's biographer laments, in the introduction to 2001's Savage Beauty, how strange and incomplete any biographical exercise is. She describes driving to the colony and experiencing the perversity of going through Vincent's personal affairs, exhuming scraps of paper and trying to piece together something that might translate, somehow, into a picture of the complex human being that is no more. The distance
between the writer and subject becomes an unavoidable paradox — the closer you get, the more impossible the true translation seems. As Susan Sontag writes in On Photography, sometimes the very act of documentation feels like violence.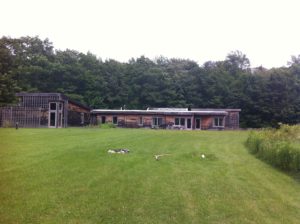 For us, nodding politely to our friendly guide as we moved through Vincent's house, the sanitized tour was a confirmation of what we were already exploring — stories behind stories. Millay 's estate promised wonderful mysteries at every turn: a witches' circle of stone columns, surreal gates to nowhere, a pile of gin bottles in the woods, a spring-fed open air pool next to an outdoor wet bar. The bar, it should be noted, has a bullet hole in the front of it.
We left the colony with our own accumulation of artifacts:
poems, pictures, podcasts, sound memos, videos and visual art that was meant to document our time there. (One is included here, a podcast/slideshow made of a ritual at Millay's grave.) We translated articles into essays, essays into maps, maps into guided tours, guided tours into dances, dances into poems and in general, experience into documentation. These are as incomplete as any tour, biography, or even recording could ever be. As we continue to develop our new show, we will learn to love sitting in that amazing incompleteness.
At night, we played games of exquisite corpse and looked at the journals of former colonists. They were
replete with ghost stories. What was their experience? Did they find echoes of a woman named Vincent here? The second night, a pack of coyotes sent up a howl from the nearby woods, and we ran outside to listen. We had been warned.
---