By Maria Shaplin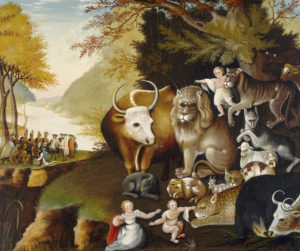 Tonight, Peaceable Kingdom opens at Christ Church Neighborhood House in Old City. Written by Mary Tuomanen and produced by Orbiter 3, the show's collaborators include 4 Mechanicians, including me- so I kinda had to write a blog post about it. Here follows an interview I did with Mary, Becky and Thomas. But first, some backstory about the show: Peaceable Kingdom is an imaginative re-telling of William Penn's early real estate exploits and experiments in religious utopia here in Pennsylvania. It highlights the burgeoning yet strained relationship between those settlers and Chief Tamanend of the Lenape nation, who lived here in the Delaware Valley long before Penn arrived. In our play, the members Penn's utopian experiment are imagined as the animals in this painting (shown here) by Edward Hicks, who was himself a Quaker, and painted 63 versions of this image throughout his life. The painting depicts animals, wild and domesticated, peacefully coexisting despite their predatory natures. The animals are living with intention, in peace. In the distance, we see Penn and Tamanend signing their famous peace treaty under the elms. But how long can this peace last? The show asks: how do we live freely and "do no harm" in a fucked up world where not everyone is capable or willing to live by the same rules or moral codes. In short, utopia is fucking hard. The characters in the play wrestle with their needs and desires, which are often at odds with living in a "state of grace", or oneness with god.  There's lots more to say but folks should just see it!
Maria: Mary, which came first, the idea for this play, or your personal involvement in Quakerism? For those of us who don't know much about Quakerism, can you give us a quick run down?
Mary: I started writing the play before I attended meeting, but only got a few scenes in before it ground to a halt. I actually didn't know that modern Quakers were contemplating these same questions that come up in the play: how to be a better ally, how to move forward with goodwill even when it's possible that you might screw up, how to self-evaluate for questions of best practice as a moral being. Going to meeting was honestly a relief. Meeting for worship invokes coming together in silence. Individuals may stand to speak when they feel truly moved by the spirit. It was so comforting to be around folks who brought those questions to a space of silent contemplation. It felt good to know I wasn't alone. After the first tentative 3 Scenes i had written, the following 20 scenes of Peaceable Kingdom tumbled out relatively quickly after a year of going to meeting.
Maria: For anyone that belongs to a collective organization, some of your characterizations of group dynamics will be totally familiar. Why's it so hard for humans to make and sustain collectives? In the end though, what keeps you striving towards the goal of a 'peaceable kingdom'- a social contract based on mutual love and respect?
Mary: I think anyone who has tried to keep a group together — a band of musicians, a political movement, a theater company, a school, a partnership, a family — knows that any community of humans can become its own small utopia. And it's really hard to keep folks together over a long span of time. It requires flexibility and adaptability, since humans grow and change. Utopia, by its roots, means No Place. This reflects both the absurdity of the idea (a perfect world? Ridiculous!) and the fluidity of it; utopia is not located in space, but rather in time. It is located wherever we come together in good faith. Yes, utopia is an impossible idea, which doesn't mean we should stop pursuing it. Yes, humans can be thoughtless, we screw up and we hurt each other — that doesn't mean we should stop trying to cooperate better. We owe it to each other, and to ourselves, to dream up a more just world. We have one tiny life and so many possibilities for friendship within it. We shouldn't have to put up with injustice, exploitation, hierarchy, bigotry and state violence. We can make tiny examples of that better world in these communities, these intentional families. That means owning your mistakes. I think Quakers are good at this.
Maria: Becky, this show features a number of your frequent collaborators including a bunch of Mechanicians- so there is a little bit of a collective vibe going on behind the scenes too. You seem like a perfect fit for the show aesthetically and philosophically. Can you describe your directing style for folks who don't get to see your process?
Becky: I'm a very collaborative director. I'm always really interested in the people in the room, their impulses, and what they're bringing to a process.  I want to build a piece with them and from them, rather than just using them to execute things I've already worked out in my head.  I always come in with starting points and first proposals, but I'm happiest when I'm working with folks who will take my first thought and take it to the next thought.  Always at the beginning of a process, I have big questions: there are things about the piece I don't understand, and I'm happiest when the process is one of group exploration and discovery.
Maria: How does your directing style vibe with, or differ from the messages that the play give us?
Becky: I'm pretty driven by visions of egalitarian and non-hierarchical systems.  Which is not to say there aren't separate jobs.  People get non-hierarchy all wrong: it doesn't mean there's no one in charge, only that the person in charge is not more important than the other people–in-charge-ness is just one [sometimes] necessary job, on par with lots of other necessary jobs.  As a director, I have responsibilities to the room, to guide and facilitate and name decisions and make things happen. But that job depends upon everyone else showing up and doing their job too.  This is way harder than just telling people what to do.  So I resonate with the utopian experiment in the play, and the subtextual fears that such work is ultimately impossible and unsustainable resonate with me as well.
Maria: I don't think that the cast would mind me saying this, but they are a huge batch of totally unique and magnificent creatures. They are an eclectic group! Tell us about what its like to work with a group that has such a wide variety of styles, training, and energy.
Becky: My experience is always that if there are 12 people in the room, I'm going to have to figure out 12 different ways of saying the same thing.  Everyone's brain is different, and in our line of work, everyone needs to be communicated with effectively in order to do their job.  When I work with a new collaborator, I often end up spending the first part of the process learning how to communicate with them.  This process has been really lovely in involving a mix of long-standing collaborators (Thomas, Mary, Maria) and brand new collaborators (Justin, Apollo, and several of the cast), as well as folks I haven't worked with in a long time–like John Jarboe, who was an early member of Applied Mechanics, Chris Davis, who performed in the second iteration of Vainglorious, and the inimitable Cathy Simpson, who was one of the very first people to be kind and welcoming to me in Philadelphia way back the first time I moved here after college.  I think that when building a piece in this way that draws so heavily on the assembled collaborators, it's really lovely and meaningful to have folks from lots of different backgrounds and trainings so that the temporary community they build together can have its own unique culture born of all their strengths and eccentricities.  This piece definitely has its own style, and that style grew from the work we've all done together as an ensemble.
Maria: Thomas, our readers should know that squirrels are your spirit animal. In addition to having a sizable squirrel trinket collection, you also have a fabulous squirrel tattoo. And in Peaceable Kingdom, you get to play one on stage! Do you feel an increased weight of responsibility to represent this animal for whom you have such intense kinship? Did you need to do any prep work for the role at all, or have you basically been studying for it for your whole life?
Thomas: In some ways it was easy for me to scurry into the role. With my love of squirrels, for years, I have paid close attention to the ways squirrels move and have been enamored by their personality. So the movement came somewhat naturally for me. It is truly thrilling to get to perform a creature that I have thought about for so long.
I would say my weight and responsibility in relation to the story is less in my intense relationship to squirrels and more in the relationship to being a Native species. Acknowledging how colonials stole this land from Native Americans, has made me think deeply about native peoples who lost their lives and also the species who died due to colonization. And also by me even saying "native peoples" how ridiculous of a statement that is as there were and are so many vibrant and different cultures that have been clumped into that category. It can be easy to invisiblize cultures if we don't pay attention, think inclusively, and as a collective. So I find my responsibility in calling attention to those which gets invisiblized, and being a participant in sharing their story.
Maria: Additionally, are there any aspects of squirrels that Mary didn't capture which you would like to give us as a sort of insider back-story? If you, Thomas, could jump into the play and give your character some advice to help him on his journey, what would you say?
Thomas: I think Mary has done an amazing job writing the story of these squirrels. She has written something really special because you see the characters reflected within other characters. These parallels between storylines help deepen each character's narrative. I think the one thing I always think about at the beginning of the show is if my squirrel didn't meet any of these characters could they have remained happily unaware in their own utopia? Advice for my squirrel: Self-care. In any relationship you have to take care of yourself. You can't expect to get what you need from another being/animal.
Go see Peaceable Kingdom y'all. Its a coup-de-village.