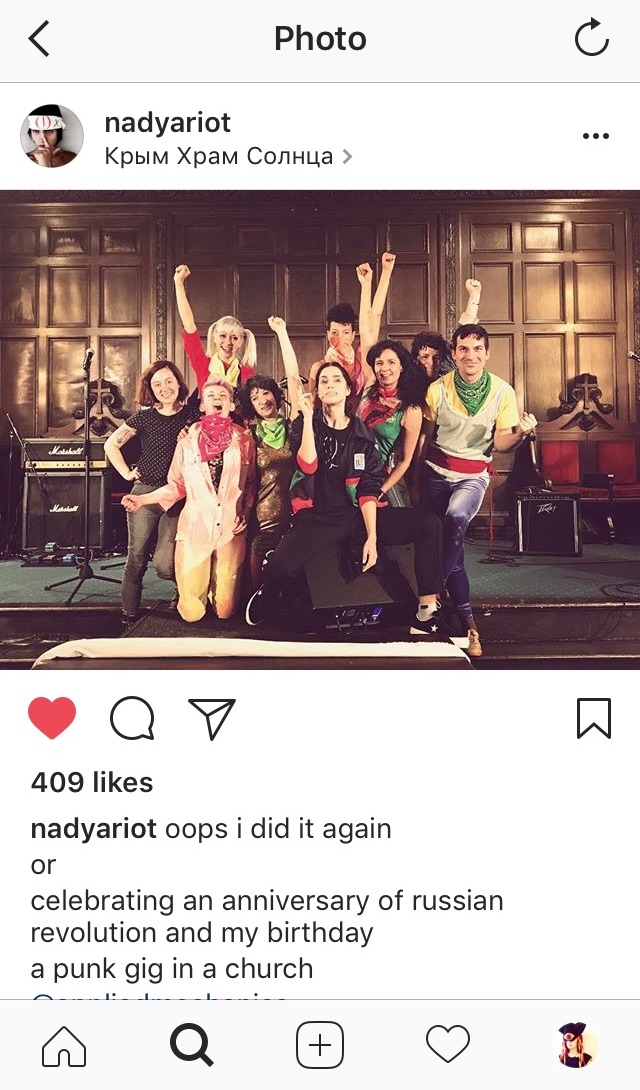 This week, Nadya Tolokonnikova of Pussy Riot came to Philadelphia. We were totally starstruck.
Applied Mechanics was so inspired by the actions of Nadya and her comrades in 2012 that we made a whole show inspired by them, called We Are Bandits. This show was about an imaginary band. We took our name from the insulting nickname the right wing in Russia gave Pussy Riot: "this bunch of BANDITS." We rehearsed this show while Nadya, Masha Alyokhina and Kayta Samutsevich were arrested and put on trial for their punk rock protest that asked the Virgin Mary to "kick Putin out". They were convicted of "hooliganism motivated by religious hatred" and their moving statements in court became famous throughout the world, calling for environmental justice, free democratic process, separation of church and state and an end to the corruption of Putin's government. Nadya and Masha were not given amnesty until December 2013, having spent over a year in two different Siberian prisons. For years after their release, we have followed their actions as they have continued to fight for their beliefs, writing songs, making speeches, and bravely putting their bodies on the line again during the Socchi Olympics, when they were assaulted once more before the eyes of the world. Meanwhile, we kept playing in our "imaginary" band The Bandits, writing songs that expressed our desire for a more just world. Jen Cleary of First Person Arts shocked me this year by calling me out of the blue and saying, "How'd the Bandits like to open for Nadya?" This is really a complete dream come true, as well as a bittersweet moment; we find ourselves with an American presidential administration that is, in its own way, as extreme as Putin's. Now more than ever, we have a need for "bandits" like Nadya.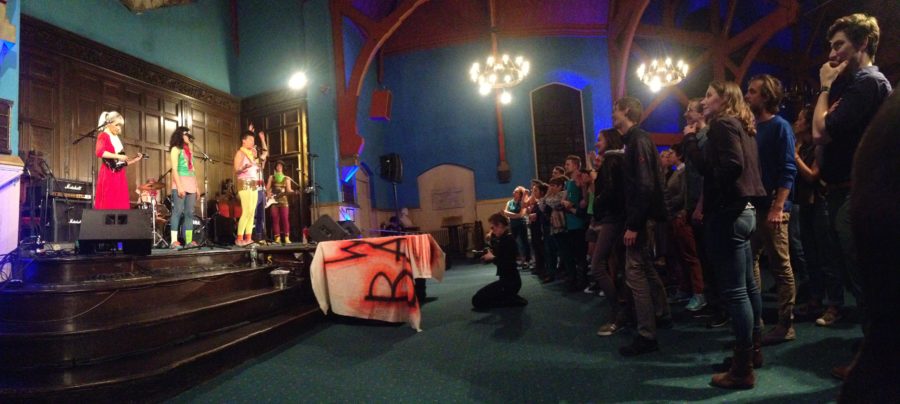 Our first glimpse of her was during our soundcheck, when she emerged from the rectory (yes, we performed in a church, a callback to Pussy Riot's "Punk Prayer" of 2012) videoing us with her iPhone, grinning wildly like a fan-girl. When our song ended, she yelled, "MORE!" She danced to the rest of soundcheck, and asked if she could take a picture with us. She sang us a little song as a trade for the music we'd played for her: "Bad apples/Are good for something/When they're six feet underground…" with a sort of freestyle postlude: "Populism, lock it up. Corruption, lock it up. Enough."The songs we had written were group authored — no lyrics, no melody, no patter between songs had been the work of only one person. It felt good to be loving each other this way, to bring each other's beliefs to life and celebrate the ideals of collectivity and cooperation which, let's face it, are the only ideas that will get us through the coming crisis of end-stage capitalism and climate change. Listening to Nadya talk about the risks that she and her friends had taken together FOR and BECAUSE OF each other reinforced the importance of these values for me.
Nadya's talk took us on a stroll through her brain — not just an anecdotal lecture on "What Brought Me Here" but rather, a little tour of her heroes, her processes, her ways of believing and thinking. It felt like the way a very serious child will give you a tour of their toy chest. Now just imagine the child is your age and has a degree in philosophy. It felt like the sort of casual irreverence that we use with each other; in short, she felt like one of us. She told stories, as well: a story of casting a skull-and-crossbones over the Russian White House, of preparing for actions with her baby in a sling, of hiding exploding confetti cannons in her pants, of learning how to roll under a car to avoid the cops in under 3 seconds, of welding the doors of a right-wing oligarch's restaurant shut while your friends are in the restaurant trying to hide the sound of welding by dancing around in Santa costumes, singing dumb show tunes at the top of their lungs. It all felt inspirational and, more importantly, POSSIBLE. We were an attentive audience of bandits — strange theatrical jerks who have no shame and lots of practice in collaboration and a taste for lunacy — and we were all shown new possibilities of how to make positive mischief in the world.
There was also an unexpected feeling of gratitude. There we were, all together, making a punk rock concert in a church, doing the very thing for which Nadya had spent over a year in prison. Despite all that is wrong with the United States, this is still possible. Leaving that church, 1,000 more things felt possible.
Why? Because we are Bandits.
Other Highlights:
When, in the talk, she said she felt guilty sometimes about how much attention Pussy Riot had gotten because there are so many political prisoners.  This perspective and understanding bespeaking a true radical spirit.
When she said, from the stage, that maybe we'll all play together someday.
Watching the crowd dance in the front, and gleefully tear up the fake money.
Watching Maria watch the Bandits from the pew in front of me, and turn around in the middle of a song and, beaming, mouth "it's so good!"
Also, I think we're all excited to read Vaclav Havel's The Power of the Powerless now.