PRESS
FEED


Phindie.com
By Olivia Jia
September 11th, 2016

Formed in 2009, Applied Mechanics produces shows that are collaborative in their making, and innovative in presentation. With the fourth wall completely broken, audiences are invited to interact with the performers, mill about the set, and select the stories they desire to follow. These characteristics were present in previous works by Applied Mechanics, yet FEED furthers their impact with the central role of food; the sensorial experience of a crisp wafer, or the cool tartness of a pickled radish weaves the audience member into the very fabric of the performance. Here, narrative, fiction, performance, and reality collide through the breaking of bread.

FEED, directed by Rebecca Wright, follows the stories of three characters defined by their relationships to food. Leif (Thomas Choinacky) hails from approximately 1400-1700 CE—he is perhaps a spice trader, and is wonderfully humorous and earnest in his pursuit of delicious tastes and smells, punctuated by constant gestures and onomatopoeia. The brilliant, but neurotic Krs (Mary Tuomanen)—circa 2010-2020 CE—is consumed by her research to produce an infinitely sustainable food source. Bestby (Brett Ashley Robinson) presents us with a vision of the future in a thousand years or two—she is to be exiled from her community for refusing to adapt to the resurgence of farming and fresh foods due to her belief that the earth is poisoned. Her plot is bleak, yet indicates a brighter future for all mankind.
Applied Mechanic's VAINGLORIOUS in American Theater Magazine: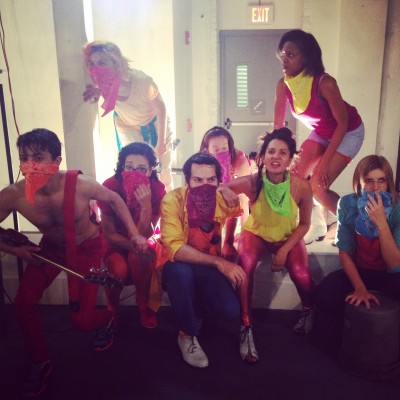 by APPLIED MECHANICS   in AUDIENCE (R)EVOLUTION /// TCG CIRCLE
People talk a lot about how to reach new audiences.  They talk about what makes an engaged audience, and how to make audiences feel like they're a part of the work.  But we take it as a given that audience members are participants in the art event, and maybe we shouldn't.  Maybe audiences don't know how important their participation is.  After all, more often than not they're told to "sit back, relax, and enjoy the show"—not a very big ask as far as engagementgoes.  And, since there's no way that going to the theater could ever be as reclining or relaxing as lying on your couch at home and watching TV, perhaps this is the wrong ask.  And perhaps audience members who show up to theater don't want to be told to sit back and passively receive something, but rather to step up and actively encounter something.  Applied Mechanics has been developing new forms of audience engagement over the last six years and we've come to see a different kind of audience: people who grew up on video games and internet want art they can walk through and not just watch.  In Applied Mechanics' work, many stories unfold simultaneously… READ MORE HERE
WE ARE BANDITS


Phindie.com
By Julius Ferraro
July 21st, 2014

With WE ARE BANDITS, director Rebecca Wright and Applied Mechanics are working against a brutal opponent: American cynicism.

They've turned the third-floor space of Asian Arts Initiative into what looks like a sprawling, minimalist installation piece. Tables, chairs, and little else delineate various spaces throughout the basketball-court-sized venue, including a city square, the apartments of various characters, a rooftop, and a church.

If you've seen Applied Mechanics' VAINGLORIOUS, you understand how this works. In your hand is a list of characters, a map, a schedule of events. Spread out across the space, characters begin their days. They move, interact, draw a crowd (the audience is almost always on their feet), tell their stories.

You can't see everything. You have to choose. Scenes blend into one-another with the precision of clockwork, characters split up or come together, and stories weave together unexpectedly. It's magical to be in the midst of it, to wander through the show and realize that no one else is having the precise experience you are. Every audience member leaves with a different story.

At its heart, WE ARE BANDITS is an ambitious exploration of the naïveté, experience, and ramifications of radicalism, idealism, and punk. Unlike VAINGLORIOUS, which told the story of Beethoven, Napoleon, and other "Notable Persons in Europe" after the French revolution, BANDITS takes place today. The characters are everyday folk: artists, office workers, students, a couple of religious zealots, etc. Through unlikely comings-together, different pockets of people exchange ideas and change one-another's lives—at least for a while. The play builds up to a single, euphoric, almost childish event and then moves on, and we are asked to first become excited by the radical potential of action and thought, and then to absorb the reality and outcomes intellectually and emotionally.

All of the characters moonlight as doyennes of radical thought: Susan B. Anthony, Frida Kahlo, Mary Richardson, Dorothy Day and others come to life and share their ideas—either in quotations from their writings or in newly-composed, modern re-conceptions. Social philosophy student Sharon slips on a costume and is suddenly Gertrude Stein, speaking about art, music and history.

The historical figures whose work is shared, and on whose passion and intellects this play is founded, are all female—reinforcing the dramatic impact women have had on two centuries of radical thought in art, politics and philosophy. The present-day characters who drive the story are mostly women, plus a couple of homosexual men, thus turning the norm on its head. 

Unfortunately, with so much going on at once—midnight drum-and-bass concerts, gay clubbing, dinner parties, and lectures on anarchy and radical humanism—it's hard to reconcile the intellectual with the dramatic and become excited when the piece wants you to be excited.

Overstimulation like this worked for VAINGLORIOUS, which was a purely visceral experience. Audiences didn't have to understand 19th-century Europe to enjoy Tallyrand's plotting or Napoleon's bloody campaigning.

What makes WE ARE BANDITS truly satisfying is that there is much more to grasp: to really be drawn through the story of WE ARE BANDITS from beginning to end, you must understand everything from the relationship between three band members, to the religious extremism of the heiress who supports them, to the intellectual basis of the concepts which inspire them to perform radical acts. What's more, you have to toss aside your natural cynicism and be swept along with the idealists.

With everything that's going on, climactic events go over your head, which is busy grappling with slippery abstract concepts and a spidery plot.

This said, WE ARE BANDITS is an inspired, intellectually stimulating theater piece. That alone makes it unique. It point out gaps in our understanding of the world around us and inspires us to learn more, while also providing a surprising experience of new possibilities in the medium.

What's more, keeping with its concept of radical idea-sharing, the crowd-funded WE ARE BANDITS is absolutely free to the public, so if there's something you don't get, feel free to see it a second time.
WE ARE BANDITS


Philadelphia Citypaper
By Maggie Grabmeier
July 25th, 2014

A Turkish pop star, a philosophy grad student and an ex-con street performer walk into a bar… No, seriously. Not quite sugar, spice and everything nice, these women form a literal band of unlikely heroes facing up to misogyny and inequality in Applied Mechanics' performance of We Are Bandits.

Inspired by the Pussy Riot arrests of 2012, director Rebecca Wright and production designer Maria Shaplin seek to create a fully functional (and believably dysfunctional) story of a society where, just like in real life, everything happens all at once. The characters each follow their own plotlines continuously throughout the show, and they interact with the space and each other independently. You are just as likely to see a character starting a revolution as you are to see a character brushing her teeth. In this sense, the show functions more like performance art than a traditional play.

We Are Bandits does not take place on a traditional stage, but in a large room where audience-members are encouraged to roam around and pay attention to whatever they find interesting. Tape on the floor differentiates different buildings or rooms, like a large-scale blueprint, (luckily, with a little "map" printed into the program so we wouldn't get confused).

From an audience's standpoint, I sometimes found myself following one character or another, and I experienced a completely different performance from the other people in the audience. Shaplin describes this style of performance as a kind of LARP (live action role play) in which the audience is sometimes asked to take part.

"It's as though our director and designers are the dungeon masters," Shaplin says.  "The actors are experienced players who have created characters with complex histories and trajectories, and the audience is like the kid that is new to this campaign, and has to learn the rules of the world by observing and discovering how it works."

By the end of the rehearsal project, the entire performance was scripted, though the actors and directors worked together to form the end product.

The show itself is about a group of strangers each with their qualms about the politics of the unnamed U.S. city they call home. When pop star Zenyo quits the business after being sexually abused by audience members at one of her shows, she feeds the activist fire and starts a band called The Bandits which more people join as they too realize the inequalities they face. "There's also a long history of protest art and radical activism that The Bandits are connecting to," Shaplin says.

Maybe my feet hurt a little more than after a traditional play, and maybe I feel like a missed a plot point or two, but the whole experience is an interesting blend of the fiction that Applied Mechanics created and the reality of the message and the authenticity of the "performance art" style of delivering the story. "It's actually not possible for every audience member to see everything," Shaplin says, "But we think that's fun."
WE ARE BANDITS


Newsworks
By Howard Shapiro
July 22nd, 2014

Theater happens wherever it's made, and in two places at once: the theater itself and whatever place is created on the stage. In the case of the lively, outré "We Are Bandits," the theater is the third-floor of the Asian Arts Initiative in Center City, and the place created there is a city park called "Our World."

"Our World" is an okay park right now, but the city's movers and shakers have plans. There'll be development and the appearance of community involvement, there'll be big money and architecture and design. And there'll be trouble.

In a broad sense, "We Are Bandits" is about the power of the neighborhood veto. It's also about community-building, which here is an evolution that spans years over a performance time of 90 minutes (about 20 minutes too long for the show's own good). "We Are Bandits" is the innovative creation, free to the public and with original music, of the theater group called Applied Mechanics — smart, young local artists who seek ways to involve audiences in unconventional theater devised by the entire creative team.

I delighted in the edginess of "We Are Bandits" – the way the stories of the people who live and come to this park are told simultaneously; you catch these tales in snatches while walking around the large playing area during the entire performance. These folks all come together only a few times, most poignantly after sad news about one of them flashes from phone to phone on social media. Finally, these disparate people evolve to change the establishment they've been questioning.

I'm not really giving anything away – it's clear after about 20 minutes that "We Are Bandits" is a stylized journey that begins with youthful idealism and ends in the chambers of City Hall and the storefronts of progressive non-profit agencies. We've lived though it – and in it – all before, here and in places around the world. And "We Are Bandits" is an especially exciting way to revisit the process, with the inherent gender, racial and class politics included.

The characters are extreme versions of reality. They include three women of varying backgrounds who play music and pal around in the park (Mary Tuomanen, Aimé Donna Kelly and Isabella Sazak), a workaday woman with grown-up values (Anita Holland), a newcomer who's eager to fit in (Adam Kerbel), an artist who's an heiress (Annie Wilson), a woozy, passionate environmentalist and engineer (Kathryn Raines) and a project developer with a supposed vision for the public space (Thomas Choinacky).

When the audience and the park denizens become a part of a much-anticipated community meeting, the developer answers a question about plans for planting trees: "Thinking locally, blah, blah, blah, transformation, blah, blah, blah, vegans and vegetarians…" Something about that sums up the real-life process. "The square," it is said by the players, "is a mechanism for maintaining the reality of an illusory world." That, too.

As you walk around watching the day-to-day and night-to-night lives of these people unfold, details that make them fuller characters emerge – you're likely to have different knowledge than audience members who've drifted to another part of the room to witness other scenarios. What's ultimately impressive about "We Are Bandits" is the way it ties itself together here and there and in its resolution, and the possibility that you may have a different idea about how than others.

From time to time, performers don plastic hoop-like skirts to adopt the identities of historic characters whose names and quotes are written on them. These are all women who stood up against the status quo – Frida Kahlo, Emma Goldman, Susan B. Anthony, Dorothy Day and Gertrude Stein among them – and their thoughts are sprinkled throughout, in the words of each. But Applied Mechanics never lets "We Are Bandits" stick more than a couple of toes into didactic polemics. It jumps unabashedly, instead, into a bubbling theatricality that allows a single story to be told – and understood – in many ways.
WE ARE BANDITS


The Inquirer
By Toby Zinman
July 20th, 2014

Continuing this summer's exciting trend of experimental theater is Applied Mechanics' We Are Bandits, a fascinating and ambitious show at the Asian Arts Initiative. Rebecca Wright directs a collective of talented people who wrote and composed this piece.

In the spirit of its 99% politics, the show is free; there are no seats, and the audience can walk through the vast space, following any character and any thread of the narrative that catches our interest. With the real Philadelphia skyline visible through enormous windows and an any-city skyline painted on the white walls, the production (designed by Maria Shaplin, with the set designed by Caitlin Lainoff) feels open and airy, according nicely with one of the show's themes: the public's right to public places.

It begins with Z (the fierce Mary Tuomanen) a homeless Blake-quoting drummer. Drawn to her are Zeyno (the stunning Isabella Sazak), a Turkish pop star who is smoldering about some unknown (to me) aggravation and Sharon (Aimé Donna Kelly who can light up a stage even when there is no stage), a graduate student. They bond and they rap about shared passions: "The city is like a woman/a reflection of our true selves: claim your body/claim your city."

Meanwhile, elsewhere, Lina (Kathryn Raines) is an environmentalist who joins Torrin (Adam Kerbel) in a consciousness-raising bike tour. In an office building above the square where these people hold protest concerts, urban-planner Lucas (Thomas Choinacky) and his assistant (Anita Marie Holland) are at first annoyed by the noise and then converted to the cause, as is heiress Luciana (Annie Wilson).

Inevitably, I lost track of some of the stories since you can't be everywhere at once. The format is much like Applied Mechanics' show last year, the brilliant Vainglorious, but unlike that show, where we knew the characters (Beethoven, Napoleon, etc) this one invents characters but links them to famous figures (Emma Goldman, Frida Kahlo, etc) in ways that become murky and difficult to follow.

The show's feminism ("I don't believe in a system/That don't believe in my sister") is clear, but the politics seem faulty: although they celebrate the group, the show's structure and our ways of watching it feels fragmented. We watch outlier commitment collapse (first class airline tickets, book contracts, etc), and the homeless woman seems to have been abandoned. Although the show's corny conclusion tries to rise above this skepticism, it didn't convince me. Also worth thinking about is the likelihood that they are preaching to the choir: who else would be there?

But with that cynically said, We Are Bandits is impressive and provocative theater.


VAINGLORIOUS


The Inquirer
By Toby Zinman
Tuesday, April 9, 2013

The title of Applied Mechanics' astonishingly theatrical show is Vainglorious.  The subtitle is "The Epic Feats of Notable Persons in Europe After the Revolution."  Said notable persons include, among others: Napoleon, Josephine, Beethoven, Mme de Stael, and Talleyrand.  So you might want to brush up your 19th-century history. Or not — just go and let the show carry you through 20 years of vainglory. (Besides, there's a crib sheet on the back of the program.) Regardless: If you're interested in experimental theatre, don't miss this one.

We enter a vast room, and wander, bemused (everyone's got an odd little smile on), among figures dressed in period costumes, caught, apparently, in mid-gesture. They seem to be statues, but their eyes blink. Eventually the actors (there are 26) will come to life, mostly through movement and murmured lines, some in French, and our collective smile will turn to intense focus, eyebrows shooting up occasionally.

Audience members are free to pursue whatever story catches their interest: Josephine (John Jarboe) and Napoleon (Mary Tuomanen); the Emperor's commandeering the sexual favors of the Duchess of Parma (Kate Black-Regan). Or maybe you want to watch Beethoven (Thomas Choinacky who has totally Romantic hair) compose symphonies, give piano lessons, discover he is going deaf.  Tallyrand ( the riveting Kristen Bailey) concocts  Europe-shaking politics, while Germaine de Stael (Jessica Hurley) creates the literary salon. Characters are composed of a team of five or six accomplished actors, and then the teams morph into armies on horseback.

Rebecca Wright directs this high-precision "movement opera" where many things happen at once (as they do in history). You suddenly see Napoleon exiled to the room's high balcony, and if you blink you'll miss the palindrome on the banner ("Able was I ere I saw Elba"). The guillotine is created by a balletic entrechat, and the cast thrillingly transforms into a silent orchestra frantically conducted by Beethoven.

The costumes  (designed by Katherine Fritz and Maria Shaplin) are superb, and the sound design (Maria Shaplin and Team Beethoven) eventually becomes a little folkloric song as all the legendary characters run off, history melts away into the past, and we're left on the bare stage of the present. And all this in an hour.
VAINGLORIOUS


Philly Weekly
Nicole Finkbiner
April 10, 2013

After seeing Applied Mechanics' most recent Fringe show, Some Other Mettle, I honestly couldn't decide whether this experimental performance troupe was brilliant or sadistic.

Having now seen the PIFA revival of their ambitious production, VAINGLORIOUS, I've concluded they're in fact, both.

With only four more performances left, you don't have much time to debate whether or not you want to book yourself a ticket. So allow me to help guide you in this decision as quickly as I can…

Pro: The troupe's signature choose-your-own-adventure narrative structure is incredibly innovative and fun. And unless you've seen an Applied Mechanics performance, chances are, it's unlike any other theater experience you've had. The audience is free to roam the space as they choose and wherever they go, they become engulfed in the action.

Con: This "narrative" is convoluted to the point of unintelligible. It's sorta like being led on a wild goose chase only to find out there was never an actual goose for you to chase—maybe a mutated duck, but no goose.

Pro: Every single member of the show's whopping 26-actor ensemble is spectacular. With this having been my second or third time seeing several of the performers, I'm convinced they don't get nearly as much praise as they deserve. Seriously, a bomb could have gone off and not a single one would have broke character.

Con: You may leave with a headache. There's a lot happening around you and between trying to process all of it, making sure you're not in a performer's way and occasionally referring to the provided program/map/guide, it can be quite overwhelming.

Pro: They feed you chocolate. If you happen to be following the right character(s) at the right time, you might even get a little wine.

Con: As the explained by its subtitle ("The Epic Feats of Notable Persons in Europe After the Revolution"), the show revolves around the Napoleonic Empire and the French Revolution. I don't know about you, but a lesson in 19th century European history doesn't exactly elicit a great deal of enthusiasm.

Pro: For better or worse, you're going to be enthralled. And for $15 bucks, I think it's worth finding out yourself.
VAINGLORIOUS


Broadway World
Marakay Rogers
April 11, 2013

The Philadelphia International Festival of the Arts, PIFA, has been celebrating historical events. Considering that the map of modern Europe is directly attributable to the Congress of Vienna, and the events preceding it, it was a wise choice for Applied Mechanics and director Rebecca Wright to take on the coronation of Napoleon on December 12, 1804. Not so much theatre as interactive performance art with a vengeance (and a wicked sense of humor as well as of history), VAINGLORIOUS (in full, VAINGLORIOUS: THE EPIC FEATS OF NOTABLE PERSONS IN EUROPE AFTER THE REVOLUTION) is Les Mis on steroids – the only way to capture all of these events in one hour.

Audiences should be advised: there are no seats; you can't hope to see the entire piece, but instead should wander throughout Europe on the theatre-space floor, to see where Napoleon is invading, where Talleyrand is engaging in diplomacy, who is the Empress Josephine's latest lover, what Madame de Stael is discussing at her salon, and what is happening in Vienna with Ludwig von Beethoven, his family, and his patrons. En route, expect to be offered a bite to eat by Josephine, to engage in a spot of gambling near Paris, or to help Anton Schindler edit Beethoven's conversation books. There's even a chance you may earn a medal in one of Napoleon's campaigns. Wear comfortable shoes, and carry your program, which has a map, at all times.

Mary Tuomanen is a fine Napoleon, apparently less in control of all of the proceedings than one might have thought, and Thomas Choinacky makes a suitably intense and darkly dramatic Beethoven. John Jarboe is a delight as a dizzy and dizzying Josephine, while Kristen Bailey, as the leader of the five Talleyrands, is (why else would you need five of him?) seemingly everywhere at once. Jessica Hurley as Mme. De Stael keeps the intellectual fires of France alive, while her husband Erik (played by Justin Jain) reminds all passers-by that his wife has written a book recently. Special notice is also due Kate Black-Regan as a peripatetic and slightly bewildered Duchess of Parma, and Dave Sweeney as Beethoven's doctor, Dr. Malfatti, who just may have been the hardest-working… or was that hardest-drinking… physician in Europe.

You'll get the most out of the show by walking right up to the cast and listening in on the conversations, or by saying hello to characters strolling past you. It's impossible to absorb everything happening, just as it would have been impossible to follow every single thing happening at the time, so choose your interest at any moment – is it Mme. De Stael's salon? One of Josephine's parties? Beethoven showing a new musical composition to a patron? Napoleon's machinations? Do not miss the Congress of Vienna, at which smaller areas of Europe are carved up like a roast by the diplomats of the alliance against Napoleon, or Beethoven's occasional difficulties conducting once his hearing loss begins affecting his balance. No one viewing spot will give you all of these things, so follow the map to see what's happening at each location.

If it's slightly bewildering, so were the times – not so different from now in that respect. You'll never absorb it all, so absorb what you need to take from it. You'll be pleasantly surprised that under the humor and in the midst of what looks like chaos, you'll be able to take away a few true things you might not have realized before.

At Christ Church Neighborhood House (around the corner from the Arden), through April 13. Call 215-546-7432 or visit PIFA.org for tickets and information.
OVERSEERS


The Inquirer
Wendy Rosenfield
Monday, September 5, 2011

Applied Mechanics' newest theatrical production-as-installation, Overseers, supports its mission statement, which also happens to be the definition of its parallel branch in the physical sciences: "Applied mechanics examines the response of bodies or systems of bodies to external forces." The ensemble's performers, stationed on platforms, stairs, in a trunk, inhabit a dystopian future in which those external forces stage a battle royal for humanity's health and well-being. Think Margaret Atwood meets The Prisoner (though the show's text draws on writers ranging from Emily Dickinson to Sun Tzu to Don DeLillo), and you're headed in the right direction.
While the actors — as a doctor, priest, bureaucratic functionary, revolutionary and artist (all excellent, all co-creators of the piece, and all willing to have some fun while delivering their message) — respond to the growing threat of a disease infiltrating their "Sector," the audience must also respond.
Sometimes you're invited to eat cake and drink gin, you move to another station as the action shifts, or occasionally, you simply need to get out of the way fast enough to avoid being stepped on by two-foot high stilts supporting Kristen Bailey's Pater B.
You choose your own adventure, with deft guidance by director Rebecca Wright, who brings up the volume of a discussion in one corner while softening another. Some clues slip past, but there's enough repetition and overlap to avoid frustration and thread together a coherent narrative.
Maria Shaplin's design contributes mightily to Overseers' unified otherworldliness: The cast wear cultish cream-colored raw linen jumpers; Mary Tuomanen's scientist sports elongated fingers and bustles with the no-nonsense, head-down demeanor of a woodland creature, analyzing slides from atop a wooden perch. There's a bit of style over substance here, but that style and the creative means by which it's delivered make this a Fringe pick well worth viewing and, of course, exploring.
OVERSEERS


Broad Street Review
Jim Rutter
Minding Everyone Else's Business
Many Fringe Festival artists fancy themselves game-changing revolutionaries. But few warp the nature of a viewer's aesthetic experience quite as radically as Applied Mechanics.
This group builds each of its pieces on two seemingly contradictory methods. The company intentionally draws its texts from a number of sources related thematically to the overall idea for a piece.
This approach recognizes that we draw the bulk of our beliefs from others— whether we're quoting pop culture or passages from books in lieu of original insights. Applied Mechanics doesn't employ this tactic in a negative sense; instead, the group uses common ideas and familiar passages to anchor and reflect a piece within an audience's experience.
Each of its pieces also discards a traditional proscenium approach to staging a narrative. Instead, characters inhabit part of the space; audience members pick and follow one or more characters and attempt to piece together the whole from its fragments. This strategy fractures the story even as it gives the audience a sense of choice as to which story line to pursue.
Permits for everyone
The group's current piece, Overseers, concerns a revolt in totalitarian Sector K, a polis greeted each day by the reminder of a past cataclysm ("It has not rained in 20,400 hours"). In this well-ordered world, all social bonds consist of minding everyone else's business.
The usual suspects carve out their spheres of influence: A scientist (Mary Tuomanen) warns against contagion, a priest (Kristen Bailey) sneers down from stilts to shore up moral decay; and a bureaucrat (John Jarboe) insists that everyone secure daily permits— for identity, preaching and any (other) form of expression (or existence).
Within the play, the audience follows multiple days in the life of Sector K, experiencing the citizens' traditions (like a "Potensday" party) and concerns: the diminishment of reverence to the state religion, the impossibility of spontaneity in a world of rules, and the ever-present threat of Rappucine's disease— an infection characterized by euphoria and joy. Continual references to the "Body Official" reign over the state as both actual Lord and metaphor for order and one's place in society.
When a refugee (Jessica Hurley) arrives from Sector L, she struggles to assimilate and finds a kindred spirit in Tristan (Thomas Choinacky), a hedonist who flirts with the boundaries of acceptable behavior. Her lack of conformity sparks a romance with a desk jockey (Jarboe). Rebellion follows, in the form of sex, explosives and joy.
Invasive medical tests
Lines of dialogue spring forth from etiquette guides, scientific manuals, the economist Ludwig von Mises, Emily Dickinson, Tom Stoppard and Don DeLillo (perhaps the only writer on the list to have written more about totalitarianism than Stoppard). Throughout, the audience wanders about the cavernous expanse of the Machine Shop's loft.
Some in the audience clearly wonder whom to follow; others dart about trying to catch every scene (impossible). The performers treat patrons as fellow citizens, interacting and conversing, even subjecting us to the invasive medical and psychological tests they inflict on one another.
In its past pieces, Applied Mechanics ameliorated the confusion and loss of textual overlap by running through the entire piece twice (a strategy that New Paradise Laboratories borrowed in its 2009 Fringe hit, Fatebook). These multiple run-throughs gave audience members a chance to follow multiple characters in successive iterations of the same script.
But Applied Mechanics abandons this device in Overseers, running the entire 90-minute piece once. Consequently, the piece reflects on the company's own method while provocatively revealing its virtues.
Stay awake, stay quiet
In traditional theater, the proscenium imposes a boundary. The audience sees what the director-as-overseer intends, and while patrons can avert their gaze or shift their focus, those who do watch all see the same play. Like the characters in Sector K, each audience member minds all the others to stay silent and awake and to pay respect to the work transpiring on stage.
Applied Mechanics' aesthetic liberates us from this tyranny. But instead of disabling art's ability to connect and communicate, the collective's use of well-known texts re-establishes a common ground for shared experience.
Art should offer both a personal and collective experience. Patrons who walk through a museum linger only on those works that speak to them. Each painting acts as a shared object that binds disparate reactions.
Through its radical refashioning of audience experience, Applied Mechanics achieves the same effect with theater. Their approach returns art to the simple, intense joys of discovery and participation in unique, elevated events.
The audience— perhaps exhausted from running around after characters— breathed a collective exhilaration at the play's close. Cheers rang out from glee-filled faces. Like children holding hands in a snowstorm, each audience member could take comfort in a shared experience and yet still treasure the unique snowflake that had touched no other tongue but one's own.
PORTMANTEAU


The Austinist
Fontera Fest Bring-Your-Own-Venue 2011 Review: Portmanteau at the Vortex Cafe

Five strangers have come to town, each with his or her own purpose, each removing belongings from a backpack, a suitcase. They explore, interact, form alliances, become rivals. Their behavior, their manner of speaking, even their very words may seem familiar to the audience. This is Portmanteau, created by Applied Mechanics, at the Vortex Cafe for FronteraFest 2011. The ensemble hails from Philadelphia, and frankly, the 1,600 mile trip was worth it. This "invasion play" strikes a rare balance in unconventional, interactive-ish theater: by using a relatively small space, and sticking to a pretty straightforward narrative built on familiar found texts, this hour-ish piece allows the audience member to get into the action without being forced to get too close (hear that, Ben Brantley?)
Film buffs will enjoy picking out snatches of the work of Paul Thomas Anderson and Lars von Trier, and there are also bits of Tennessee Williams, Radclyffe Hall, Tom Robbins, and Anna Swir, among others. The actors make their characters clear and often exciting to watch: there's an earth mother, a businessman, a glamorous woman, a filmmaker, and a desperate immigrant, and they've all got their desires and fears. (My favorite was Mary Tuomanen as Verna Werzog — her sendup of the famous film director during one of his most infamous shoots is priceless.) The actors create the set, arranging their belongings around the cafe – you decide whether to sit beside one person, follow another, and whether to accept an offered morsel of food.
In this type of play, each audience member has the chance to make discoveries as they choose, so I hesitate to reveal much of the plot, but suffice it to say that the word "invasion" fits for thematic as well as formal reasons. If you've never partaken in a play that combines audience and performer space, this is a good place to start, but if you're already a fan of the stuff, it's unlike that you'll be bored. The two remaining performances are tonight and tomorrow at 8 p.m. The 10 dollar admission price is well worth it.
PORTMANTEAU


The Inquirer
Howard Shapiro

Portmanteau. Five actors enter the room where we are gathered and, one by one, they set themselves up. A female civic organizer (Kristen Bailey) unfolds a music stand and hangs a plant on it. An industrial carpetbagger (Thomas Choinacky) at this unnamed place opens a board with gambling paraphernalia.
A Czech immigrant (John Jarboe) holes up under a makeshift tent. A vacationer (Jess Hurley) sits by her open valise. A documentarian (Mary Tuomanen) makes herself a photography station.
An hour later, by the end of Applied Mechanic's production called Portmanteau, we will have walked with them all as they talk, argue, threaten, or seek each other's help. Portmanteau unfolds while we mill about at will, finding its creases and twists. Each of the characters has an agenda. Those agendas link.
The subtitle of Portmanteau is "An Invasion Play," and the audience is as invasive as the characters in the situation that develops. In fact, Portmanteau has more the feel of watching a movie than a play, because we're within feet of the action watching close-ups, which sometimes in a minor way include us.
The text is from snippets of many well-known writers and by the talented ensemble. Rebecca Wright kept her direction sharply focused, so that the timing of conversations and the logistics involved in delivering them reveal the storyline, no matter where you roam or what you witness. Portmanteau is meaty and curious – and as close to a piece of installation art as theater gets.
PORTMANTEAU


City Paper
K. Ross Hoffman

Portmanteau unfolds fluidly through simultaneous, interconnecting scenes performed promenade-style (with performers and audience moving freely about the same space), with all five characters — all newcomers to an unnamed small town, each with a different agenda — continuously active for its hour-plus length. That it works at all is a considerable feat; that it's consistently engaging without being overwhelming, that it creates a taut, cohesive, and compelling socio-political drama, and that it's also very funny (Mary Tuomanen is particularly hilarious and spot-on as the documentarian "Verna Werzog") and frequently moving all speak to some serious ingenuity. Truly delightful.
PORTMANTEAU


Broad Street Review
Jim Rutter
September 10, 2010
Choose Your Own Ideological Baggage (before it chooses you)
How does a theater company produce a play without a playwright? The two co-creators of Applied Mechanics' fascinating, intelligent Fringe production Portmanteau select a theme and a setting, then build a plot around a collage of dialogue lifted from other writers, including Tennessee Williams, Upton Sinclair, filmmakers Luc Besson, Gus Van Sant, and Paul Thomas Anderson, and The Bible.
Director Rebecca Wright and designer Maria Shaplin plop Portmanteau down in the town square of an unnamed Eastern European country. Here Eli Worthing, a backgammon-playing Bostonian businessman (Thomas Choinacky) hopes to improve the local living standard (and turn a profit as well) by opening a silver and copper mine. A zealous environmentalist named Maud (Kristen Bailey) follows on his heels to stir up the townsfolk into thwarting his plans.
The two antagonists peddle their ideological wares to whomever will listen (including the audience), and their debates soon escalate into a conflict that transforms the village's open marketplace into a battleground of capitalism vs. environmentalism. The fight quickly enlists the other characters: an ingénue British secretary on holiday (Jess Hurley) and an unemployed young Czech (John Jarboe) who owes allegiance to no one but his hunger. All the while, a young documentarian named Verna Herzog (Mary Tuomanen) pokes her camera in their faces and ours, using objectivity as a thin veneer to cover her artistic motivations.
By themselves, the careful selection of dialogue and the fine acting create a compelling, innovative piece of theater. But Wright and Shaplin build another layer of innovation into Portmanteau with their "choose your own adventure" approach to the staging. They've used this tactic in Applied Mechanics productions before— forcing patrons to wander through the rooms of a bar on the coattails of circus performers in last year's It's Hard Times at the Camera Blanca, and asking us to follow intrepid travelers through a labyrinthine West Philadelphia apartment in Ses Voyages Sauvages.
During Portmanteau's first 20 minutes, the open layout at the Lantern Theatre hindered the enjoyment; Maud and Eli argue loudly as they compete for "buyers," and the endlessly fascinating Mary Tuomanen flits about the landscape with a verve that's impossible to ignore or resist. Unlike the case in Applied Mechanics' other works, I couldn't focus on one character's story without being distracted by the bickering or preaching of others.
But slowly, the marketplace setting and the brilliance of Wright and Shaplin's idea worked their force. The two antagonists pulled apart into the corners and began to demarcate the space. By asking us to choose one character to follow over another, Portmanteau— even if only subconsciously— asks us to take sides and reveal which viewpoint fits best inside the particular ideological baggage each of us carries.
SES VOYAGE SAUVAGES


City Paper
Emily Currier
Friday, March 26th, 2010

With its commentary on ideas about home, Ses Voyages Sauvages is fittingly, and cleverly, staged in the interior of an apartment. Around 7:45 p.m., a group of people gathered on the porch of the West Philly row house, making small talk while waiting for the doors to open. Had I known how much these people would be part of the performance, I may have made more of an effort to mingle with the crowd of avid theatergoers and performers. This tone of informality and vague awkwardness remained throughout the entire performance, even after we were led up three flights of stairs to the Arctic.
To transform five rooms into different terrains, the set designer made a smart decision in employing materials commonly found around the apartment. The living room was transformed into the Arctic with cardboard boxes painted white and plastic tarps, the kitchen became a mountain range of elaborate papier-mâché, and other locales were constructed with fabric and converted furniture. While the scenery was convincingly portrayed, the found materials reminded the audience of the constant presence of home wherever you go.
The cast of six young actors agilely interacted with the set and each other in meandering plotlines revolving around their own personal quests. Audience members were unleashed on the play without any guidelines about how to watch and were able to follow any character they felt inclined to. Instead of being spoon-fed a story, the audience was given their own agency. Unfortunately, most people uncomfortably clogged the hallways instead of venturing into any of the biomes. Unless there was the invitation of free food or alcohol, they were unwilling to break the typically prescribed fourth wall. The actors, meanwhile, remained intensely wrapped up in their quests, even with the audience voyeurs constantly getting in their way.
Though they ran through the storyline twice in the performance, I left Ses Voyages Sauvages wanting a longer engagement in this lucid, poetic world. But, as the actors and occasional plot holes echoed, "Why must you dreams and have them, too?"
SES VOYAGE SAUVAGES


City Paper
Emily Currier
March 23, 2010
Choose Your Own Adventure
After taking over a bar in their Philly Fringe production, It's Hard Times at the Camera Blanca, Applied Mechanics theater company will now conquer an entire West Philly apartment. Taking a cue from classic quest tales, Ses Voyages Sauvages follows intrepid heroine Mary as she leaves her home on the range to search for fulfillment. Audience members choose their own experience, following Mary or another of the five characters through a living room converted into papier-mâché mountain ranges or a wetland kitchen. "You have to make decisions about how you watch it, which makes for an honest theater experience," says director Rebecca Wright. Each performance loops through the set of stories twice, allowing the audience to eavesdrop on several storylines and embark on new quests.
IT'S HARD TIMES AT THE CAMERA BLANCA


Broad Street Review
First published in Edge Philadelphia
Friday, September 18, 2009

Applied Mechanics "It's Hard Times at the Camera Blanca" presented the inescapable nature of the global economy, that other thing artists hate most about the intersection of art and economics. Here, eight circus characters (trapeze artists, clowns, a lion tamer) downed drinks at the Camera Blanca bar as they struggled with the economic uncertainty of a travelling show on the verge of financial failure. The audience moved between tables, chairs, and barstools, eavesdropping on conversations between a brother and sister as their relationship fragments over an uncertain economic future, listening to the outpourings of clowns who fear irrelevancy, and throughout, witnessing a Ringmaster ruling over all of them with a unyielding iron fist.
One moment of hope rises above the Dickensian din: a young clown arrives, hoping to reinvigorate, if not reinvent the circus (i.e., the economy, if you didn't get it yet). "No one does that," the lion tamer tells him; "no one can do that" the Ringmaster commands.
Rebecca Wright's text lays the metaphors on thick; however, she enlivens the dialogue by creatively borrowing from a number of other sources, providing a movie-buff's dream script with quotes culled from Greatest Show on Earth, Trapeze, and Casablanca (hence the mnemonically mimicking "Camera Blanca" bar). I laughed in hearing the bartender and trapeze artist replaying the "Go back to Bulgaria" dialogue, just one of the moments that transcended the show's melancholy mood.
Like several other Fringe Artists presenting works that deal with the scientific discipline of economics, I'd love to know the depth of Wright's knowledge in this field (or at least how much research she's done). However, unlike the two monologues Mike Daisey showcased at this year's festival, Wright at least doesn't dip into fantastical solutions to fix economic woes, but instead presents the valid, real concerns felt particularly by artists during an economic recession that makes the production of art a luxury and further drives the existence of artists to the margins.
Despite these financial concerns, Wright and her designer Maria Shaplin didn't manufacture a sure-seller for the Fringe, but instead pushed at the boundaries of theatre as an art form. "Hard Times" dropped the proscenium, linear narrative, and fixed directorial focus, and forced the audience to follow characters about an awkward landscape, catching only part of the conversations at a time to piece together the evening by themselves. At times it felt a bit scatter brained, but the entire 35 minute piece repeated, allowing anyone with decent parallel processing skills (or massive ADHD) to catch every conversation and get the whole jist of her "hard times" and circus metaphor.
And while Wright may not have found any answers about the economy, her new work asked important, and theatrically rewarding questions about the dramatic nature of theatre.