IN THE NEWS: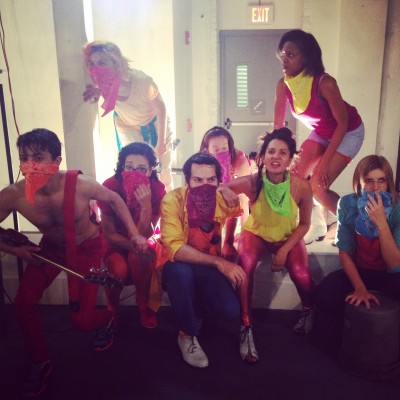 by APPLIED MECHANICS   in AUDIENCE (R)EVOLUTION /// TCG CIRCLE
People talk a lot about how to reach new audiences.  They talk about what makes an engaged audience, and how to make audiences feel like they're a part of the work.  But we take it as a given that audience members are participants in the art event, and maybe we shouldn't.  Maybe audiences don't know how important their participation is.  After all, more often than not they're told to "sit back, relax, and enjoy the show"—not a very big ask as far as engagementgoes.  And, since there's no way that going to the theater could ever be as reclining or relaxing as lying on your couch at home and watching TV, perhaps this is the wrong ask.  And perhaps audience members who show up to theater don't want to be told to sit back and passively receive something, but rather to step up and actively encounter something.  Applied Mechanics has been developing new forms of audience engagement over the last six years and we've come to see a different kind of audience: people who grew up on video games and internet want art they can walk through and not just watch.  In Applied Mechanics' work, many stories unfold simultaneously… READ MORE HERE
COMING UP:
Applied Mechanics has an Incubator residency at the University of the Arts this fall!
We will work with a group of students to experiment with radical immersive depictions of volatile historical narratives.  We will explore representations of multiple coexistent time periods, and how they can overlap and feed each other.  We will experiment with a host of characters from different eras, laboring to shape their lives and make sense of their moment.  Drawing on existing stories from the past and imagined events of the future, this project gives us the space to play with tracing the mutation of narratives over time and interrogating the politics of who gets to craft them.